Leave no girl behind: How women's rights organization unleashes potential of teen mothers and GBV victims
This year, International Women's Day (IWD) focused on recognising women and girls who are championing the advancement of transformative technology and digital education under the theme "DigitALL: Innovation and technology for gender equality".
The theme rhymes well with the work of Empower Rwanda, a local women's rights organisation, mainly operating in the Eastern Province, and what it is doing to empower girls and young women, especially teen mothers and victims of Gender-Based Violence (GBV).
As one of the districts facing the challenge of teenage pregnancy in Rwanda, many girls in Nyagatare find themselves living in precarious conditions after their families turn their backs on them, but a simple smartphone has come to the rescue.
Take for example Mwizerwa (name changed to protect the victim), who was raped by a family friend in 2019 at the age of 15. Mwizerwa had travelled to Rubavu District to look for her brother who had been missing for a while.
Mwizerwa's mother told her to go with the man who was 30 at the time, as she (the mother) thought he would be helpful in finding the brother since they had worked together before.
"When we got to Rubavu, we looked for him in vain and decided to return to Nyagatare. It was late, and he suggested that I sleep at his place and go home in the morning. That night, he raped me, and in the morning, he asked me to go home. I went and told my mother about it, but as soon as he found out that we were looking for him, he fled to Uganda," Mwizerwa recalls.
Later, she noticed she had missed her period and as it turned out, she was pregnant. This marked the beginning of a long nightmare, with her own family treating her like an outcast.
Mwizerwa became the subject of mockery at home and in society. Isolated and stigmatised, she would be told to hide whenever visitors came around.
"When I was about to give birth, there was no one to help me. I was on my own, and was about to give birth to another outcast," a teary Mwizerwa says.
Upon giving birth, her mother asked her to leave the family home and be on her own, now that she was 'a woman'. Young, dejected and with a baby, Mwizerwa's life became very complicated. She set out to rent a small room and struggled every day to make ends meet.
One day, a health worker who was touched by her plight recommended an organisation called Empower Rwanda, which she heard was helping rape victims, especially teen mothers and other vulnerable women.
Mwizerwa approached the organisation and was received by Olivia Promise Kabatesi, the founder and country director and her team, who gave her emotional support through counselling, and a smartphone to keep in touch.
As Kabatesi explains, many of these vulnerable girls and women don't have phones or other means of communication, which complicates an already messed up situation.
The phone helps them to stay in touch with the organisation's team and communicate in case they encounter any form of abuse or violence.
The organisation also helps victims trace their abusers and where possible, gets them lawyers to pursue justice.
Kabatesi's focus is on GBV victims and voiceless women who cannot fight for their rights because society doesn't give them a platform to do so.
"We stand up every day to defend the rights of women in all spaces, whether on or offline. We defend women's freedom of expression and encourage them to speak up, especially against any form of violence," Kabatesi says.
Mwizerwa's story is similar to that of hundreds of girls and young women who are suffering quietly, either because they are scared to speak out, or because society has conditioned them not to do so.
Kabatesi emphasises the need for GBV victims to name and shame their abusers because that is the only way to deal with the issue, adding that GBV is turning out to be another pandemic and many women and girls continue to experience it daily.
To her, it is personal because as a young girl, she ended up in an abusive marriage, on top of the childhood trauma she faced.
"It is something that happens in our daily lives. I speak from personal experience that led to the establishment of Empower Rwanda. I would say growing up with childhood trauma and later on marrying an abusive man and getting divorced, going through a very dramatic justice process, I know exactly what this means," Kabatesi says.
A persistent problem
Kabatesi says that GBV continues to prevail in both physical and emotional abuse. Though physical violence has reduced because of how it is reported and law enforcement takes action, emotional abuse remains a major challenge for many girls and women.
She points out that due to cultural norms, many women remain silent amidst violence at home and at work, putting up a façade, but in actual sense, they are going through abuse.
'A good woman is a quiet one', 'don't be vocal', 'you're acting like a man', 'a good woman stays in the kitchen to cook for the husband' and many other gender norms are part of the culture that perpetrates GBV.
Some women lose their lives all in the name of remaining silent, either killed by their partners or stress and other conditions that result from being in an abusive environment, such as high blood pressure, diabetes, depression, mental breakdown, strokes and others.
Most of the teen mothers they support end up being accepted back into their families. The skills they acquire from the training in bakery and culinary make them financially independent and, ironically, they go back to support the same families that side-lined them at the time they needed them most.
Such was the case for Mwizerwa and other victims who spoke to The New Times whose lives were turned around, beginning with a simple smartphone that took them out of isolation and opened the door for a second chance.
Uwera (name changed), 19, a teen mother was raped at the age of 14. Uwera was raped by a 23-year-old man with the help of a woman in the neighbourhood she considered an 'aunt'.
On a fateful evening, Uwera was coming from school when she decided to pass by the home of a woman who was a family friend. She lured her into the house, unaware that a young man with ill intentions was inside.
"As soon as I entered, she locked the door and I was face-to-face with a man I didn't know but used to see in the neighbourhood. He raped me and said that if I told anyone, he would kill me," she says.
As fate would have it, she missed her period. Scared and unsure, Uwera confided in the same 'aunt' who told her that she would tell the man and they arrange for an abortion.
It turned out the abuser was still living with his family and had no income. He, however, said that he would raise half the money needed to secure the abortion, but she would have to raise the other half.
"I was desperate, I looked for the money and gave it to the guy to pay the doctor. He disappeared with the money," Uwera says.
She went on to have the baby, but her family, though not abusive, did not help at all. A friend tipped her to go to Empower Rwanda.
Kabatesi says that most of the GBV victims they support are still children themselves and need help. Part of the work they do is to advocate for access to sexual and reproductive health rights (SRHR), which include access to safe abortion and other services that safeguard young girls from such early troubles.
Uwera, Mwizerwa and many others who went through the same trauma were brought together by Empower Rwanda. They have been able to set up savings groups and they also speak out and advocate for the rights of other girls going through the same.
In a society where women are taught to be submissive while men are taught to be manly, women will continue to suffer similar consequences, and Kabatesi says that only a mind-set change can make a difference.
Part of what they do is to dismantle these gender norms, stereotypes and assigned roles that put women in a servitude position while their actual potential in society is suppressed.
Through professional trade courses, the girls are equipped with skills while those who dropped out of school are helped to resume.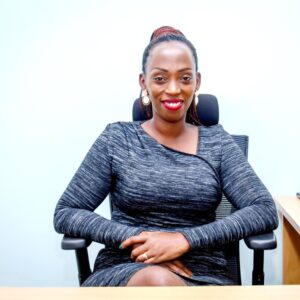 "Over 300 girls have been able to return to formal education through our advocacy and intervention, with the support of the families and the government," Kabatesi says.
She pointed out that the Government of Rwanda has done its part, putting in place the right laws and institutions, but a lot more needs to be done in society, down at the grassroots, where the abuse happens.
Source: https://www.newtimes.co.rw/article/5638/news/women/leave-no-girl-behind-how-womens-rights-organisation-unleashes-potential-of-teen-mothers-and-gbv-victims