Artistes thrill Nyagatare youth in drive to end teenage pregnancies
There is no easier way to deliver a message to young people than through music.
That is exactly what happened in Nyagatare District on Tuesday where over 2, 000 youth gathered in Nyagatare Stadium to enjoy performances by renowned artistes as part of efforts to create more awareness against teenage pregnancies.
It was fun and dance as artistes who included the 'Tsaper' singer Okamma, together with rapper Papa Cyangwe, real name Lewis Abijuru, joined forces with Symphony Band and local non-government organisation, Empower Rwanda, to fight against teenage pregnancies in Eastern Province.
The artistes were joined by former Miss Rwanda contestants Jeannette Uwimana and Keesha Kayirebwa, Zubby Comedy and Student of Rwanda School of Music. Alyn Sano did not appear as earlier expected.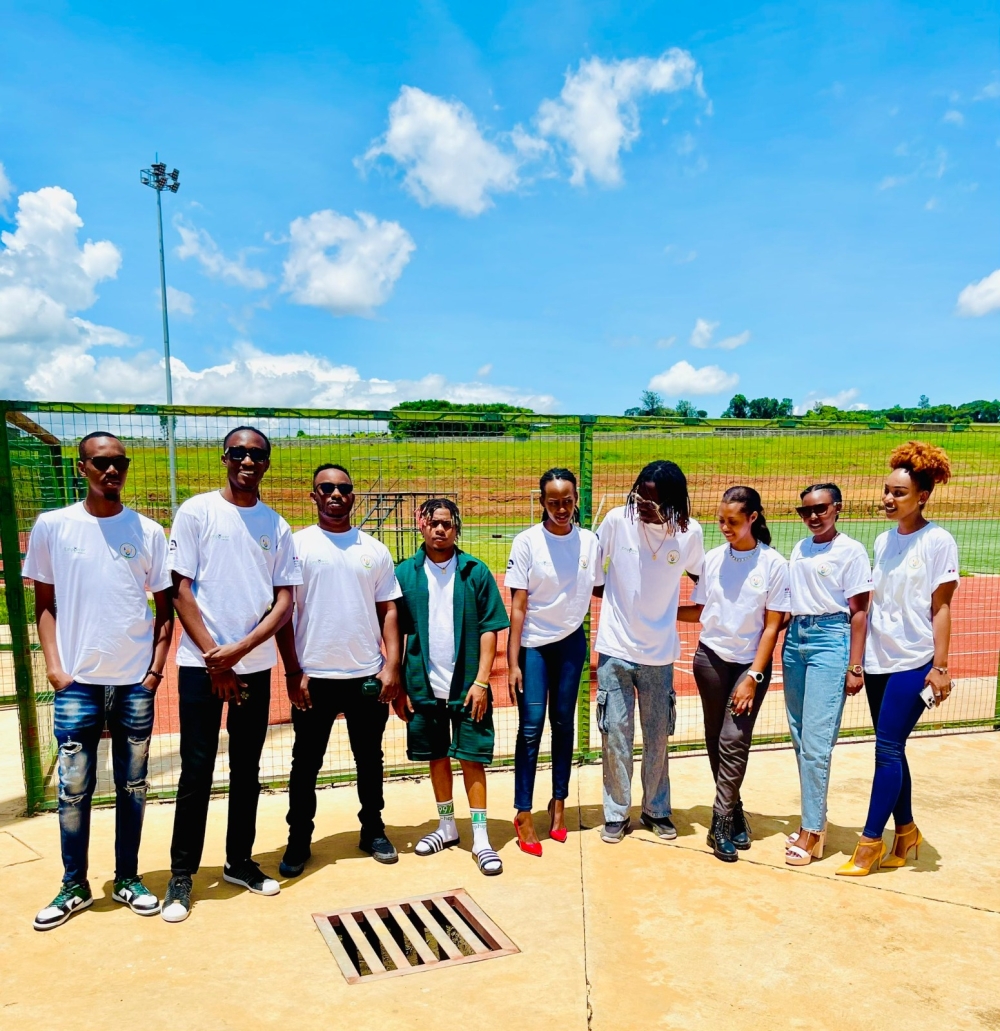 Artistes post for a photo with former Miss Rwanda contenstants in Nyagatare
According to Innocent Mugiramana, who represents Backstage Music Company, which manages Symphony Band, the turn up was overwhelming and they are confident that the message reached many young people.
"Yesterday was beyond what we imagined. Young people came in large numbers. We had nearly 3,000 people,"
"We had an amazing walk, long but everyone stayed until the end. All of us, performers, actors and public figures we went with, we all understood the cruelty of the issue and therefore we acknowledged the importance of the campaign," Mugiramana said.
He pointed out that the campaign kicked off in the best way possible and more is going to be done across the country, drawing in more youth and he is confident that at the end of the day, Rwandans will win against the scourge of teenage pregnancies.
According to Olivia Promise Kabatesi, the founder and country director of Empower Rwanda, the campaign dubbed "Rungano Turwanye Inda Ziterwa Abangavu" kicked off positively, with young people turning up in big numbers.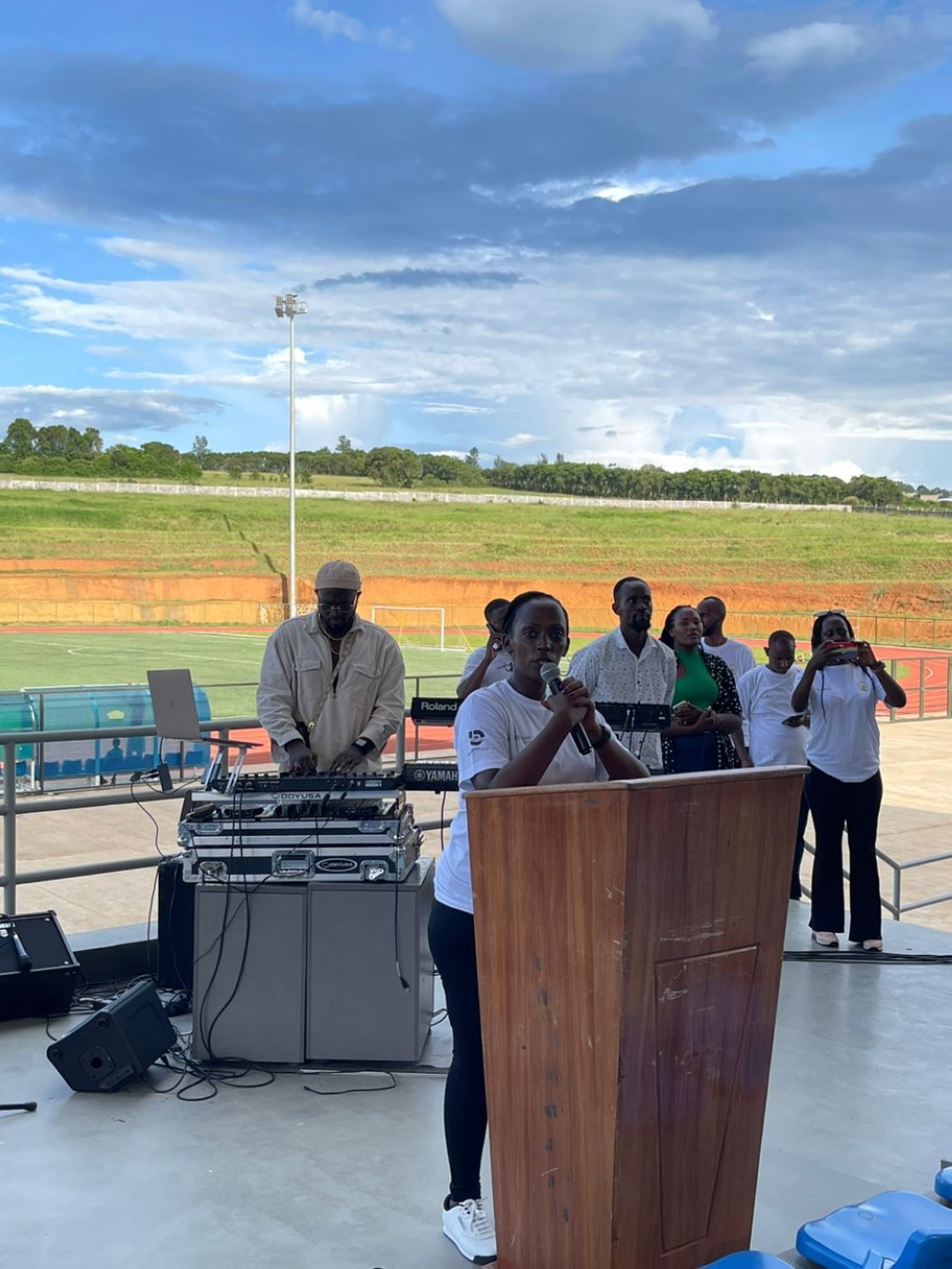 Kabatesi addresses the youthful crowd.
"The event was really a big success. It gathered over 2, 000 youth from all categories in Nyagatare District, it had medical practitioners, local government officials, it had development partners present and of course the musicians,"
"These were youthful artistes who easily connected with the crowd and gave us a good show and also attracted young people to come and listen to the messages we were passing on," Kabatesi said.
She pointed out that the presence of former Miss Rwanda contestants also fired up Nyagatare youth, particularly Uwimana, who lives with a speaking and hearing disability. Her story inspired many when she participated in Miss Rwanda 2022.
"We wanted to bring in that inclusiveness where even the deaf or disabled are represented in the discussions. We are looking at tapping into her platform to make her advocate for the rights of teen moms, especially our girls with disabilities,"
"It was a very unique component and it was really touching. She passed on her message, calling for support from different parties and stakeholders involved, urging them to give special attention to girls with disabilities," Kabatesi added.
Kabatesi said that the involvement of law enforcement organs such as Rwanda Investigation Bureau, Police and others, whose representatives shared experiences in dealing with the challenge of teen pregnancies as well as GBV and its perpetrators, made the maiden leg of the campaign more successful.
"We also had a presentation on sexual reproductive health by health experts, including some from our organization who work in that particular program,"
"This was all aimed at sensitizing young people and giving them different options for sexual productive healthy services and also giving them information on how they can be accessible," she said.
The campaign also sensitized the youth on the role of service providers, including local government officials and other stakeholders as well as the role of the youth themselves, especially boys, in combating teenage pregnancies.
"In the research we did in September 2021, we noted that we had 70% of youth being perpetrators of teen pregnancy. So, we felt having boys take the lead, especially in this campaign, was going to be rewarding because most of them are potential perpetrators," Kabatesi notes.
Kabatesi notes that the fact that children are holidays, the campaign will reach more youth and most of the sexual violence they experience, girls especially, happens during holidays.
Girls were encouraged to report perpetrators or individuals looking to abuse them and also make their voices heard, whether it is their friends or relatives involved, even when parents want to cover it up.
Nyagatare District and the Eastern Province, in general, particularly continue to face a challenge of teenage pregnancies. Through the campaign, Kabatesi said that they are focusing on creating youth advocacy groups right to the grassroots because that is where it all happens.
The objective of the campaign, which will continue to other parts of the country, is to raise youth awareness of the prevention of teenage pregnancy through youth-friendly strategies, music being one of them.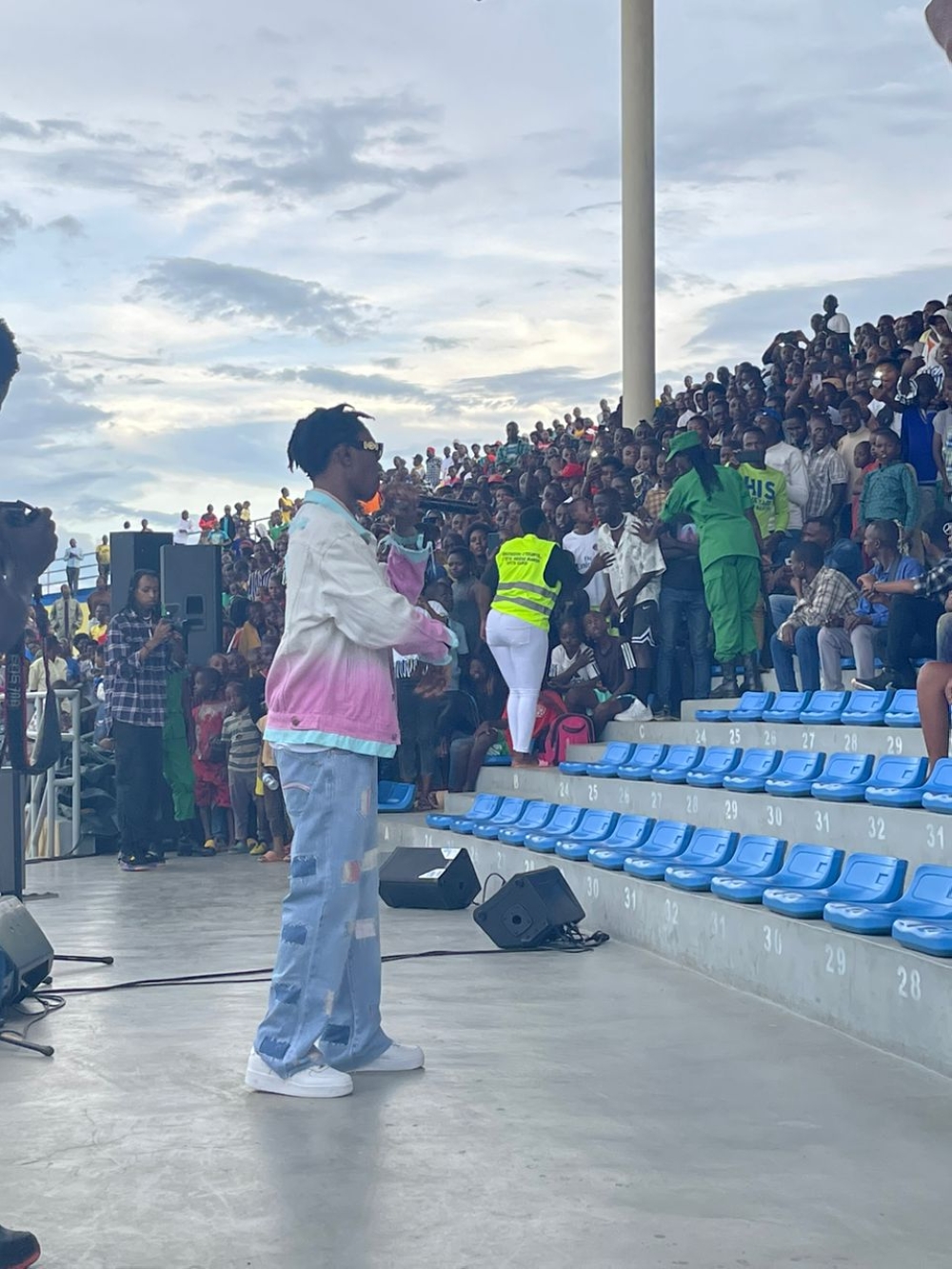 Papa Cyangwe performs in Nyagatare Stadium.
Young people turned up in large numbers.